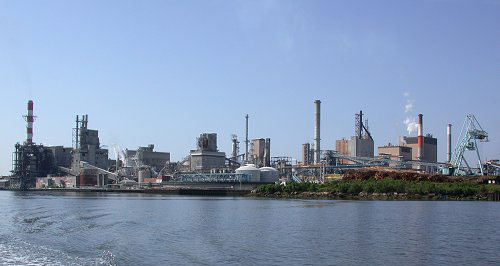 This Savannah mill resides on a 450 acres site, and produces unbleached kraft linerboard, corrugating medium, and saturated kraft paper. It employs over 1700 workers and produces over 500,000 tons of linerboard/paper per year. Visitors to the Savannah area used to comment on the pungent odors that wafted from the plant, to which the proper Savannah resident would reply, "That, my dear, is the smell of money." The plant has added very expensive equipment in recent years to incinerate the sulfur products that used to create those pungent odors.
It is interesting to watch the process as logging trucks bring the trimmed tree trunks along the giant crane, which unloads the trucks and stacks their load in a circle around the crane. The crane then lifts the logs and drops them in the hopper, where they are fed into the chopper. The chopped wood is then cooked and digested. The extracted material is pressed and dried and rolled out on one of three paper machines. Used water is piped under the river to large holding tanks, where the water is aerated and treated before being discharged in the river.
Pressure from environmental groups and legislature as well as industry innovation has helped to reduce many of the health and environmental hazards associated with the paper mill industry. One great concern is the simply high volume of water used. Paper mills generally draw their water from fresh water aquifers and discharge in the river. The Savannah plant is able to re-use their water 12 times before discharging it, thus minimizing the drawn down of the aquifer.