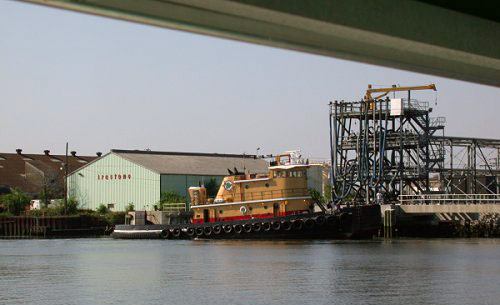 Colonial Oil is a privately held company, whose headquarters are located in the port. They hold over 100 acres of river front. The company provides storage and distribution for liquid and dry bulk products, including bulk chemicals, fuels, and oil. It also provides ship bunkering, commercial shipping, and tug and barge services. They have three terminals in the port, designated as Colonial Oil 1, 2, and 3.
Colonial Oil is family business. The president and CEO of the company is Rob Demere. His grandfather, Raymond Demere, started the business in Savannah in 1921, shortly after World War I. Originally called American Oil Co, it now operates more than 70 Enmark gas stations in Georgia. Its other subsidiaries include:
Colonial Oil Industries, Inc. – terminals in Savannah, Charleston, Wilmington, Jacksonville, Port Everglades, and Tampa
Colonial Caribbean, Inc. – product supply to the independent gasoline market in Puerto Rico
Colonial Terminals Inc. – provides some of the largest liquid and dry bulk storage facilities in the region located in Savannah and Wilmington
Georgia Kaolin Terminals Inc. – bulk and breakbulk operations of Kaolin
Chatham Towing Co. Inc. and Colonial Towing Inc. (Sun State Towing) – inland towing from Morehead City to Cape Canaveral
Colonial Energy Inc. – natural gas supplies in Gulf Coast and Appalachian regions
Colonial Chemical Solutions Inc. – line of products and services for the food, chemical process and basic chemical industries, with operations in Savannah, offices in Augusta, Valdosta, and Charleston.
Colonial Marine Industries Inc. – ship management, chartering, brokerage, and port agency for anyone with a vessel to manage or a cargo to move, anywhere in the world.